Looking to update your kitchen, but don't have the time or budget for a remodel? Here are three simple renovation ideas that will give you a better looking kitchen in no time!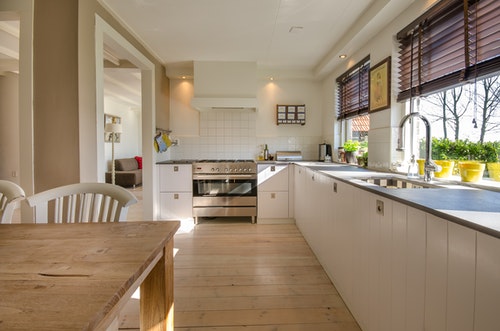 1. Add Some Color
All-white kitchens have been trendy for decades. Why not give your kitchen some character by adding a pop of color? Paint walls in a color that contrasts well with your cabinets. Alternatively, you could paint the cabinets, or even stain them in a new finish for a completely new look. Use a contrasting wood finish for kitchen cabinets and islands to give your space a sophisticated and stylish look.
2. Install a New Range Hood
Range hoods have been gaining in popularity as a great kitchen design trend. The right range hood can really make a statement in a kitchen. You could use a stainless steel hood to you're your room a more modern look, or a hammered copper hood to add some classic elegance to the space. There are so many different styles to choose from, but be sure to pick a hood that fits well with the overall aesthetic of your space. Choose a professional kitchen range hood installation company to add this exciting new focal point to your kitchen.
3. Add a Backsplash
Installing a backsplash is a great way to spice up your space. If you're handy, this is a project that you can easily do yourself. Choose quartz tile backsplash for a sleek, clean look or go bold with colorful glass tiles. No matter what you choose, a new backsplash is sure to give your kitchen a lot more personality.
It's clear you can give your kitchen a whole new look without investing a lot of time. By following these tips, you'll improve the appearance and enjoyment of your space.