Like the past Christmases, this year is no different for my kids. They still receive something from some of our relatives and their ninongs and ninangs on Christmas day.
Naomi's gift from her Ninang Badet. Thank you Ninang.
Instead of toys (which is no longer appropriate because they are big kids now), my kids are given cash gifts. The kids use their money to buy the things they want. My daughter now invests in drawing or coloring materials for her sketching hobby. My son, on the other hand, well, he collects toys (sorry, but he doesn't want me to specify). 🙂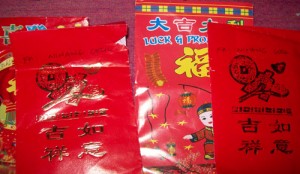 Ang Pao from Ninong and Ninang
When they were little they're too excited to unwrap their presents for they knew the boxes contain toys. My daughter used to get ragdolls, cash register toy and a battery-operated microphone as gifts. My son's favorite Christmas presents were stuffed animals, toy train, and dinosaurs.