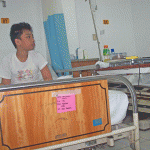 My kids were the only older kids at the pedia ward when they were admitted for dengue fever last Friday. It's a little awkward since six of their room mates were babies and preschoolers. My children don't want to stay in the pedia ward so we decided to request for a separate room even if it would cost us an additional P200 for the room rate.
My kids especially my son is growing up fast as if we buy human growth hormone for him. At eleven, his height is between 5"3 to 5"4 feet already, a big kid indeed to be with baby patients.
By the way, we're still here at the hospital. We hope the children will recover soon.