There are many different ways of covering your home. You can choose simply to repaint it, although in practice this is generally more complicated than it sounds. Alternatively, you can invest in some high-quality vinyl cladding that can quickly transform the look and feel of your home.
However, you can also opt for a more traditional approach with board and batten siding. When installing this you can get professional help, or you can complete the work yourself by following these simple steps: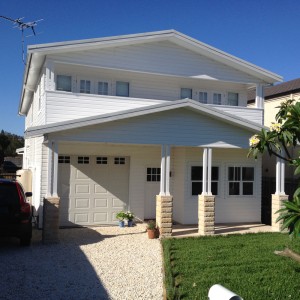 Choose Your Boards
The most common boards are 1×10 with 1×2 or 1×3 battens. However, you can also choose 1×8 boards or 1×12 boards and 1×4 battens.
It's also important to consider the finish of your boards if you opt for rough then your boards will give your home a rustic look. Alternatively, you can choose smooth, planed, boards and pint them afterward, creating a very modern finish.
Don't forget if you're painting the boards after to check with your local planning office, you don't want to fall foul of local rules and have to remove your boards.
Part of choosing the boards also means selecting the wood you'd like to use. Hardwood is more expensive and will last longer. But, it can be more difficult to work with.
Cedar is generally a good option but you should check to ensure there are no open knots.
It's probably going to take you a day, with one assistant, to cover 800 square feet of wall. The exact time will depend on your work ethic and the amount of space you have to cover.
Now Put Your Board and batten siding up
Just follow these steps:
Put building wrap around the windows and doors, you'll need metal flashing on vulnerable joins. This assumes you have flat walls to batten against. If you don't you'll need to add furring battens.
Now add your water boards, they must be level, you can bang two nails in at every joist and use a butt joint to join boards together.
Take a look at the spaces between windows and doors. You want to plan your boards to minimize cutting and avoid having skinny pieces of wood.
You should now be ready to put your first board up. You'll need to make sure it stays vertical with a spirit level. Nail the board in but don't put the nail too close to the edge of the wood.
Use a spacer to create an even gap between each board, this allows for expansion and contraction. At the same time, it keeps the look uniform.
Take your time cutting angle boards, mark several times before cutting; you want the fit to be as snug as possible.
Your battens can now be installed over the gaps in your wood; this covers the gap completely and protects the walls and the rest of the wood from damp. You can straighten a crooked batten by aligning it as you nail, moving from top to bottom.
That's it! Step back and admire your work, but only when you've finished the whole house.